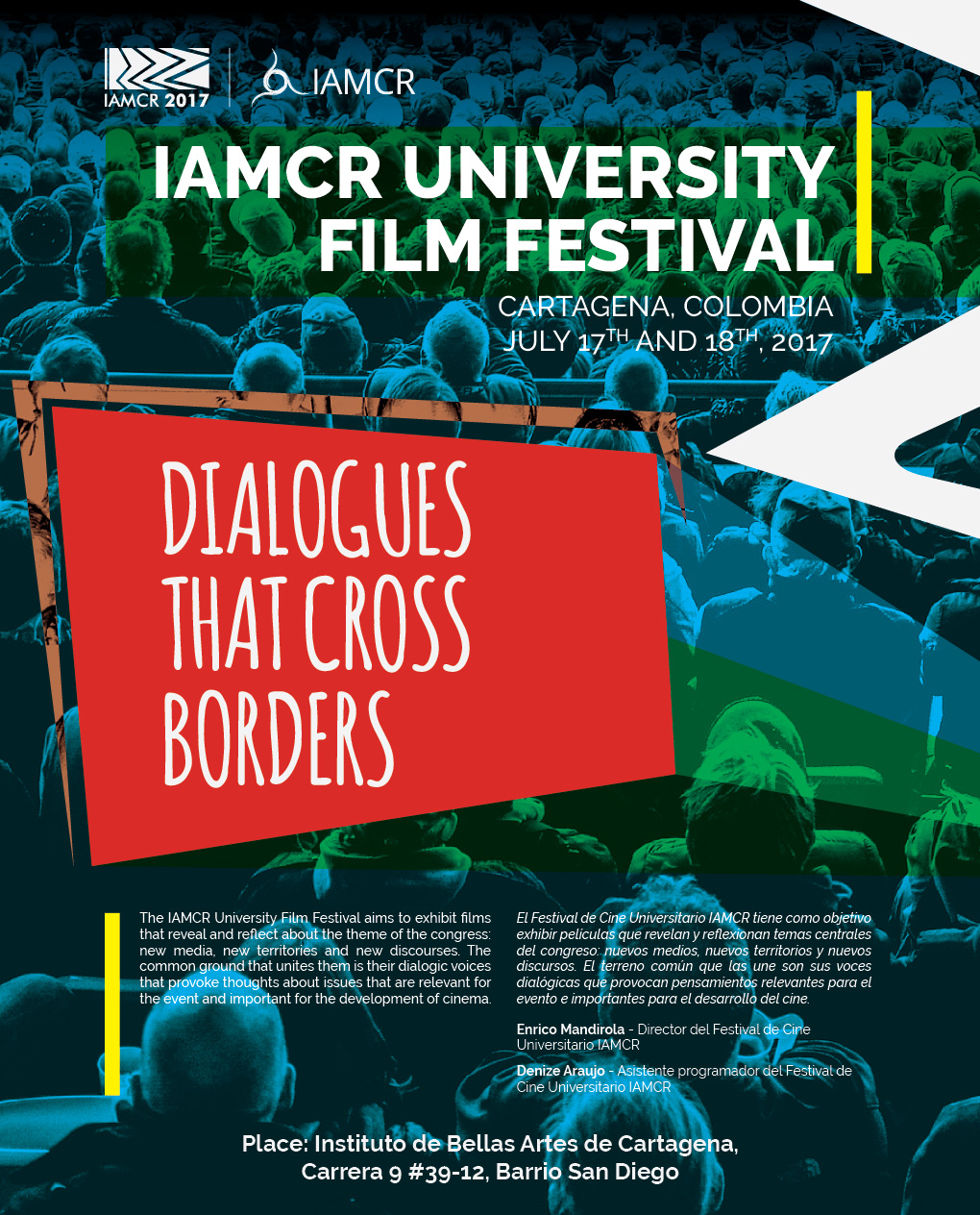 IAMCR UNIVERSITY FILM FESTIVAL

PROGRAMME — 1
 Monday, July 17th / 18:00 hs
Brûle la mer (75') – France
DIRECTOR : Nathalie Nambot y Maki Berchache.
(2014, Súper-8 y 16mm, Color, Sonido, 75′).
Brûle la mer stands at the paradoxical crossroads between the lively energy of a revolution in progress (Tunisia), the momentum of a departure to Europe, and the violence of a welcome declined. The film targets what constitutes the sensitive framework of an existence at a time of rupture; that which is the smallest, the most common, far from exoticism, but haunted by a dream, like an exhortation. It is not a film about emigration or revolution, it is an essay on freedom, or rather an essay that stages freedom: a real and fictitious attempt to escape which involves the making of a film, taking part in the process of emancipation: burning the sea, borders, laws, papers, etc. What does it mean to break with one's past life, leave one's country and family in which, somehow or other, strong links of solidarity, mutual assistance and ancestral ties to the land still prevail, and join a world mythologized and dominated by capitalist relationships? What is meant by 'living one's life'? History is only written about important people, we don't exist." Fragmented stories about the struggle and exile of young Tunisians after Ben Ali's fall from power. What does it mean to break with your own past? To dream of freedom, make a film and write a piece of History? A cinematographic essay about the strength of a revolution, fleeing to Europe and the violence of rejection when they arrive.
­
The Last Legend Of Maypole (6') – Nicaragua
DIRECTOR : Eli LaBan
(2017, Video, Color, Sonido, 6′, Francia).
The traditional Creole culture music of the Nicaraguan Coast is disappearing. This short documentary follows a reunion of the last legendary Bluefields musicians for the first jam in decades over a pot of rondon stew! Many of them are on the street, forgotten for what they did for the culture years ago. 
Coffee Farming in Nicaragua (3') – Nicaragua
DIRECTOR : Eli LaBan
(2017, Video, Color, Sonido, 3′, Francia).
Meet Juan Ramon Blandino, like many nicaraguan campesinos he is a former Sandinista soldier who now supports his family by cultivating crops on a farm collective.
Quantified Life (12') – Denmark
DIRECTORS: Jens Haaning & Btihaj Ajana.
(2017, Video, Color, Sonido, 12′, Denmark).
What is self-tracking? How is it practiced? And why do we do it – collect and analyze data about our body, health and even emotions? What are the benefits and risks of quantifying ourselves? Through the eyes of a dedicated self-tracker and recent research the documentary gives a nuanced account of self-tracking practices in contemporary culture.
Sacred Ground (28') – USA
DIRECTOR: Tim Gruenewald and Ludwig Schmidtpeter
(2015, Video, Color, Sonido, 28′, USA).
The Documentary Sacred Ground explores issues of memory and remembrance in the United States by presenting a complex web of past and present relationships between the two memory sites through visual montage and interviews with the people who live at, work at and visit each of the memory sites.

Mi cuerpo es una celda (16') – Colombia
DIRECTOR: Erika Aldana
(2016, Video, Color, Sonido, 16′, Colombia).
My body is a cell, it's a short documentary that reflects those insecurities that women have regarding their physical appearance. This demonstrates the pressure from the social environment to which they belong and that demands them to follow certain model of beauty.
Una Canoa sin Río (15') – Colombia
DIRECTOR: Jeferson Romero & Antonio Mariño
(2015, Video, Color, Sonido, 15′, Colombia).
A canoe arrives unexpectedly at a small settlement. Its inhabitants, peasants displaced by fifty years of ongoing civil war in Colombia, resist to forget their origins by creating a living space where the city garbage is transformed in objects that remind them their farmer past.
 PROGRAMME — 2
 Tuesday July 18th / 18:00 hs

O Encontro (13') – Brazil
DIRECTOR : Marcos Jorge
(2002, Video, Color, Sonido, 13′).
The short film is about relationships and cinema, with dialogues in "cinemês", an invented language with cinema words.

Dinner for few (10') – USA/Greece
DIRECTOR: Nassos Vakalis
(2014, Video, Color, Sonido, 10′).
"Dinner For Few" is an allegorical depiction of our society in its endless struggle to have more power, an allusion to "Animal Farm" by George Orwell and the film by John Stephenson.

Numbers (10') – South Korea/Czech
DIRECTOR : Robert Hloz
(2015, Video, Color, Sonido, 10′).
A short film about a young man who sees numbers above the heads of everyone around him. The meanings of the numbers reveal social judgements.

Dalivincasso (11') – Brazil
DIRECTORS: Marcelo Castro & Marlon Tenório
(2014, Animation, Video, Color, Sonido, 11′).
A short film about great painters and their approaches to Art. A debate about Cubism, Surrealism and Italian Renaissance.

68 steps (3') – Brazil
DIRECTOR: Rodrigo Forbeck Odppes
(2014, Video, Color, Sonido, 3′).
How many steps are you from your biggest dream?
Regardless of the final destination, the paths traveled may define who you are.

El cuento (30') – Italy – France – Colombia
DIRECTOR: Enrico Mandirola
(2011, Súper-8 & Video, Color & B/N, Sonido, 30′).
It is through songs that people leave the sky of their childhood to enter into active life in the reign of civilization. It is through songs that they return to primitive life.
A Cinema-poem that was born out of road signs found scattered on the road.
The theme is a war, an opaque and archaic war that is never named.
The text is a chant about the behavior of a "timeless-man" during a war.
 
Unfamiliar Dream (19') – South Korea
DIRECTOR: Jigon Kim
(2008, Video, Color, Sonido, 19′).
Unfamiliar means something not common from my perspective and ours.
However, we all are unfamiliar from their perspective. I would like to demonstrate many dreams happened in movie theaters that located back to back. This film see how movie theater demolishing from the eyes of a theater.

El viaje de Cronos (7') – Colombia
DIRECTOR: Miguel Pedreros & Gustavo Castañeda
(2014, Súper-8 & Video, B&N, Sonido, 7′).
An astronaut boy wants to carry a sample of water to the Earth, he must cross the galaxy on his spacecraft, but in its way it undergoes an accident, leaving the spaceship without energy. Now you will have to face different dangers to save mankind.

Carrona (15') – Mexico
DIRECTOR: Diego Mauleón
(2015, Video, Color, Sonido, 15′).
To maintain his relationship with Matthew, Emma takes extreme care. The limits are exceeded due to the insane grip of Emma, progressively increasing the wear and tear of both, as well as their vision of reality.